It has been a while since my last post so here is an update on some recent projects:
I will be performing Joaquin Rodrigo's Fantasia para un Gentilhombre with the Rome Symphony Orchestra on March 19, 2016.
Details are below in the flyer.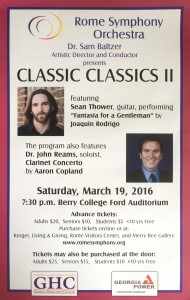 Other Projects:
My modern acoustic duo, Terminus Falls, is set to release our first CD in just a few weeks.  Sam and I can't wait to share it with everyone.
Also soon to be released is a method book I wrote over the course of the past couple of years.  It is in the final editing stage, and as my first guitar teacher would say, "more will be revealed".